Weather supports wheat prices
Weather forecasts indicate dry weather for major wheat growing areas of Ukraine and Russia. Lack of rains and delays in wheat planting may negatively affect expected crops in Ukraine and Russia. Will the wheat price continue upward correction following the forecasts?
According to the MDA Weather Services dry weather will establish next week in considerable parts of Russia and eastern Ukraine, keeping winter wheat regions dry. Wheat exports from Ukraine and Russia comprise about a quarter of global exports. Above-average temperatures are expected to accelerate declines in soil moisture as Ukraine and Russia have seen less than half the normal amount of rain since early August. Dry weather will delay wheat planting and planted seeds will be stressed as germination will be hindered due to insufficient moisture. Half of Ukraine and one-quarter of Russia will suffer from dry weather including major wheat growing areas in central Ukraine, the east of Russia's Central Region, the western North Caucasus, and the Volga valley. As of last Friday 8.3 million hectares of grains were planted according to Russian Department of Agriculture against 9.1 million hectares a year ago, and Ukrainian winter grain crops were 15% sown. Wheat futures prices have been rising on concerns over negative impact of dry weather on expected crops in Ukraine and Russia.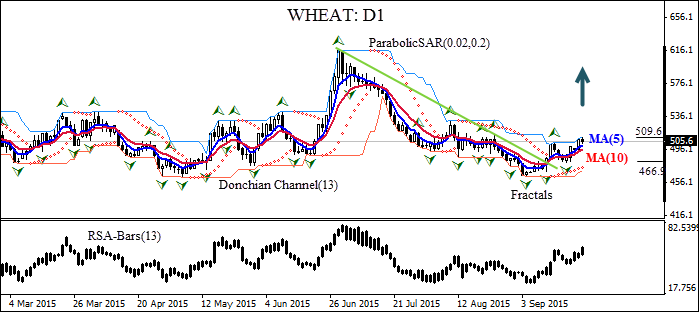 On the daily chart wheat price stated falling after it hit the annual peak in the end of June. It has been rising for about three weeks now. The parabolic indicator gives a buy signal. The Donchian channel is tilted upward. The 5-day moving average is above the 10-day moving average indicating a bullish momentum. The RSI-Bars oscillator is also rising. We believe the bullish momentum will continue after the pair closes above the upper Donchian channel at 509.6. A pending order to buy can be placed above that level. The stop loss can be placed below the last fractal low at 466.9. After placing the pending order the stop loss is to be moved every day to the next fractal low, following Parabolic signals. Thus, we are changing the probable profit/loss ratio to the breakeven point. If the price meets the stop loss level without reaching the order, we recommend cancelling the position: the market sustains internal changes which were not considered.